Manjusha Art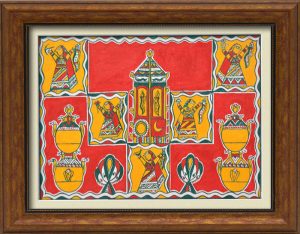 HISTORY
---
Manjusha art is an ancient folk art of ANG PRADESH currently known as Bhagalpur city of Bihar. This art was earlier done by few Malakar family. This art has been prevalent in Bhagalpur for a long time but between 1931 -48, it was brought to the forefront. In this period during the British rule, an ICS officer by name W.G. Archer and his wife started finding out more about Manjusha art. He fell in love with the art form . W.G.Archer put a collection together of manjusa art and had an exhibition in The India Office Library in London which became part of the Archer Collection. It was at this time that Manjusa art gained international recognition. But at that time due to the British rule the artisans could not flourish. After this golden period, Manjusha art seemed to be fading away in the background and was being practiced only by some people.
In 1984 the Bihar government made an intitative called "Jansampoorna Vibagh" in which they went to the villages of Bhagalpur and showed them slideshows of Manjusa art and educated people about this traditional art form in the hope of reviving it. After which Jyotish Chandra Sharma came into the picture and wrote some books on this art. Smt. Chakravathy Devi was one of the most traditional artisans and belonged to one of the two families who have started this art. She has worked tirelessly in reviving this craft.
In 2006 NABARD and Voluntary Organisation Disha Gramin Vikas Manch jointly taken initiatives to the revival of this folk art. Disha started 3 Years Manjusha Art Development Programme with the financial support of NABARD in all the sixteen blocks of Bhagalpur. The Organisation conducted Awareness programme in all selected blocks and trained more than 2000 rural women. Out of them organisation selected 250 trained artisans from Naugachhia and Shahkund Blocks and started another innovative project "Manjusha Art Activity Based Group". Under this programme 50 Activity based groups formed and started developing Manjusha Crafts on large scale. Manjusha Flower Stand, Pen Stand, Jute Folders, Ornaments and various daily utility products were developed under this project.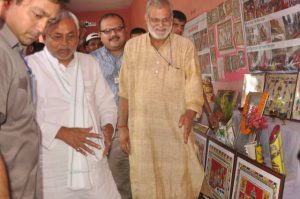 In June 2012 Disha was organised Manjusha Craft Exhibition in Naugachhia. In this exhibition Honorable Chief Minister of Bihar Nitish kumar along with his Principal Secretary Anjani Kumar Singh visited and instructed their officials to include this art in Bihar Government Projects. This exhibition was created a milestone in the Journey of Manjusha Art. Then Bihar Art and Culture Department and Department of Industry started several programme on this art.
In 2014 Govt. Started STATE AWARD competition on Manjusha Art and Upendra Maharathi Shilp Anusandhan Sansthan came to the front and playing important role for revival of this art.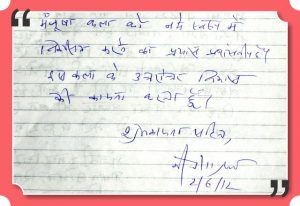 The Bihar government has been making a lot of efforts to revive this craft and many skill upgradation trainings have taken place both in Bhagalpur as well as in the nearby villages. They have made a good effort in trying to make people aware of this craft.
Recently the Bihar government has put together a committee which comprises of 11 people out of which 4 artisans will be present to apply for a patent for the manjusa art form. They are planning to patent it as a Bhagalpur folk art.